Copy Writing
Για να πετύχουμε σε μια ιστοσελίδα υψηλή θέση, ένα από τα σημαντικότερα σημεία είναι η ποιότητα του κειμένου.
Η εταιρεία μας έχει κειμενογράφους με ειδικές σπουδές στο πώς πρέπει να γραφτεί ένα κείμενο ώστε να πετύχει υψηλή θέση στις μηχανές αναζήτησης.

Οι μηχανές αναζήτησης χρησιμοποιούνε στις μέρες μας τεχνολογίες με τις οποίες μπορούν να ελέγχουν τη ποιότητα του κειμένου ως προς τη σύνταξη, τη γραμματική και την ορθογραφία.
Παράδειγμα σελίδας S.E.O.:
When planning your next company seminar in Greece, don't limit yourself to small dreary rooms in uninspired hotels. Seminars are meant to motivate, and what better motivation than to have yours take place at a water-side hotel ? The Lucy Hotel is located in the Greek Isles, in the town of Chalkis, around 50 miles from Athens, and offers top-of-the-line services.

The Lucy Hotel offers conference rooms that are able to accommodate up to 350 people comfortably. There is also an on-site restaurant which serves both Greek and international cuisines. If you decide that you want to provide meals to your participants, the Lucy Hotel can set up a buffet, or serve meals at individual tables.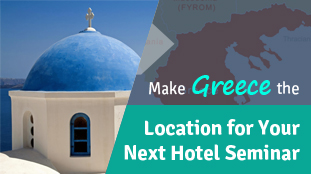 One of the most important objectives of seminar planners is to insure that everything goes according to plan and that all necessary tools are at his or her disposal.
The Lucy Hotel in Greece has modern, top-of-the-line audio and visual equipment to help you present your information to seminar participants expertly and efficiently.
---
They also employ a knowledgeable and dedicated staff who can assist you in making your event an unqualified success.
---
In itself, Greece is an exceptional place to be. Add to that the Lucy Hotel with its beautiful location, professional staff and exceptional meeting facilities, and you have a recipe for success. Your next seminar in Greece is certain to be everything you envision if you let the Lucy Hotel help make your vision a reality.